Our Club has been invited to display our Buicks at this year's event. You can expect quite a variety of vehicles and you'll love some of the beautiful hot rods, classic and customised cars.
Being near the beach the weather is always cooler if it's a hot day and we're only a short walk to the esplanade to get coffee or gelato.  There's many restaurants and cafe's there but you don't have to worry about brekky because the $10 admission fee per car includes a sausage sandwich and drink for up to two people.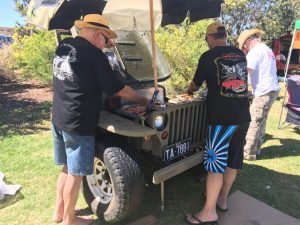 Their Willy's Jeep BBQ facilities were very cute and functional.
With food and free parking near the beach, it's going to be a cheap day out so please come along.