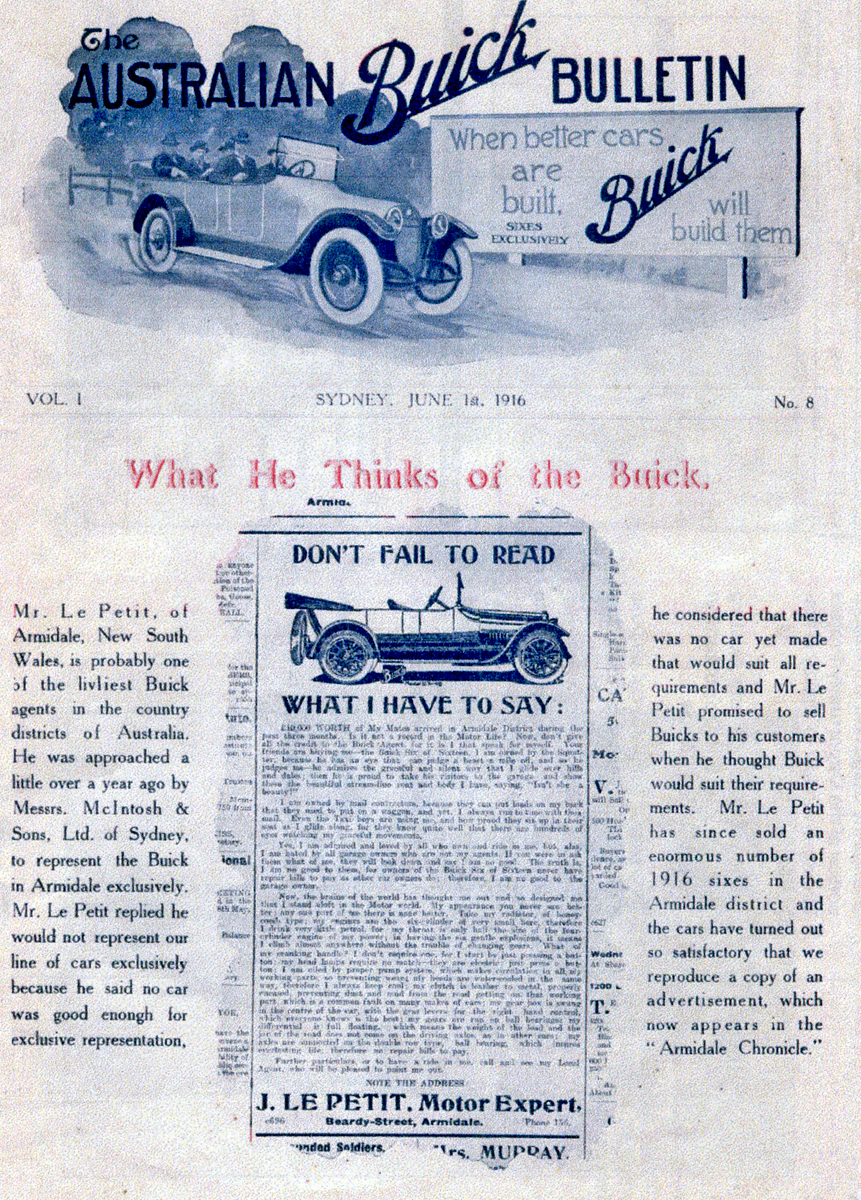 Article reprinted from "The Australian Buick Bulletin" June 1916
Researched and contributed by Marc McInnes from the original magazine.
What He Thinks of the Buick
Mr. Le Petit, of Armidale, New South Wales, is probably one of the livilest Buick agents in the country districts of Australia. He was approached a little over a year ago by Messrs. Mclntosh & Sons, Ltd. of Sydney, to represent the Buick in Armidale exclusively.
Mr. Le Petit replied he would not represent our line of cars exclusively because he said no car was good enongh for exclusive representation, he considered that there was no car yet made that would suit all requirements and Mr. Le Petit promised to sell Buicks to his customers when he thought Buick would suit their requirements.
Mr. Le Petit has since sold an enormous number of 1916 Buick sixes in the Armidale district and the cars have turned out so satisfactory that we reproduce a copy of an advertisement, which now appears in the " Armidale Chronicle."
Webmasters Note: This is the text of the advertisment, it"s an interesting read!
DON"T FAIL TO READ WHAT I HAVE TO SAY
"10,000 worth of my mates arrived in Armidale district during the pastthree months. Is it not a record in the Motor Life" Now, don"t give all the credit to the Buick agent, for it is I that speak for myself. Your friends are buying me – the Buick Six of Sixteen. I am owned by the squatter, because he has an eye that can judge a beast a mile off and so he judges me – he admires the graceful and silent way that I glide over hills and dales; then he is proud to take his visitors to the garage and show them the beautiful stream-line coat and body I have, saying "Isn"t she a beauty!"
I am owned by mail contractors, because they can put loads on my back that they used to put on a waggon, and yet, I always run to time with their mail. Even the Taxi boys are using me, and how proud they sit up in their seat as I glide along, for they know quite well that there are hundreds of eyes watching my graceful movements.
Yes, I am admired and loved by all who own and ride in me, but, alas I am hated by all garage owners who are not my agents. If you were to ask them what of me, they will look down and say I am no good. The truth is, I am no good to them, for owners of the Buick Six of Sixteen never have repair bills to pay as other car owners do; therefore I am no good to the garage owner.
Now, the brains of the world has thought me out and so designed me that I stand aloft in the Motor world. My appearance you never saw better: any one part of me there is none better. Take my radiator, of honeycomb type; my engines are the six-cylinder of very small bore, therefore I drink very little petrol, for my throat is only half the size of the four-cylinder engine of my power; in having the six gentle explosions, it means I climb almost anywhere without the trouble of changing gears. What of my cranking handle" I don"t require one, for I start by pressing a button; I am oiled by proper pump system, which makes circulation in all my working parts, so preventing wear; my heads are water-cooled in the same way, therefore I always keep cool; my clutch is leather to metal, properly encased, preventing dust and mud from the road getting on that working part, which is a common fault on many makes of cars; my gear box is swung in the centre of the car, with the gear leavers for the right hand control, which everyone knows is the best; my gears are run on ball bearings; my differential is full floating, which means the weight of the load and the jar of the road does not come on the driving axles, as in other cars; my axles are supported on the double row type, ball bearing, which insures everlasting life, therefore no repair bills to pay.
Further particulars, or to have a ride in me, call and see my Local agent, who will be pleased to point me out.
NOTE THE ADDRESS:
J. LE PETIT. Motor Expert, Beardy-Street, Armidale. Phone 156
Posted 10/2003