Buick Communications – media release to commemorate 100 years of Buick (1903-2003)
by Lawrence R Gustin. Additional photography courtesy of Eric North Collection of origional Buick Factory Photography.
DETROIT A distinctive, luxurious vehicle named Centieme, revealed to the public at the 2003 North American International Auto Show in Detroit, is the latest in a long line of Buick concept vehicles. Centieme (pronounced sent-e-em, meaning 100 in French) was named in honor of Buick's centennial in 2003. It is designed to combine the best features of a sedan and sport utility vehicle.
Concept cars were commonly known as "dream" cars in the1950s. But concept or dream car, the idea is about the same. A concept car is a design and engineering, and often marketing exercise, a method of trying out new ideas and generating excitement with the public about a company's products and expertise. It's also sometimes a way to tease upcoming production models.
Historians generally claim the first true dream car was a Buick. A black two-place convertible created by General Motors Styling and Buick Engineering back in 1938. It was, and still is, the Buick "Y-Job", designed by Harley Earl, GM's first design chief, and built on a production Buick chassis modified by Charlie Chayne, Buick's chief engineer.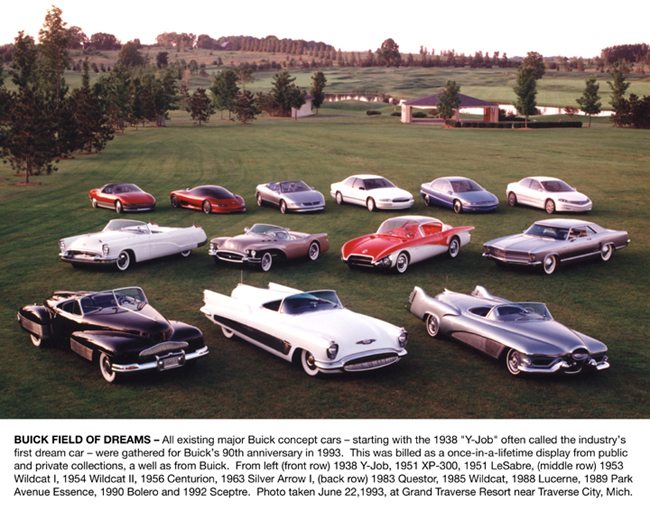 There are various theories behind the name, the most prevalent being that the letter "Y" was used for experimental aircraft at that time. Also, Earl tended to use "job" to refer to his project cars.
In June of 1993, the 13 then-existing Buick dream cars were brought together for Buick's 90th anniversary, photographed at Grand Traverse Resort near Traverse City, Mich., and appearing at Eyes on the Classics, an auto design show in Grosse Pointe Shores, Mich.
Highlights of the Buick Dream Cars
iseecom
2016-09-22T17:03:52+10:00
Harley Earl was always striving to make cars lower and longer "because my sense of proportion tells me that oblongs are more attractive than squares." The Y-Job fits that description, strikingly modern and sporty in design, with front fenders swept back into the doors. Other features: a straight 8 engine, [...]