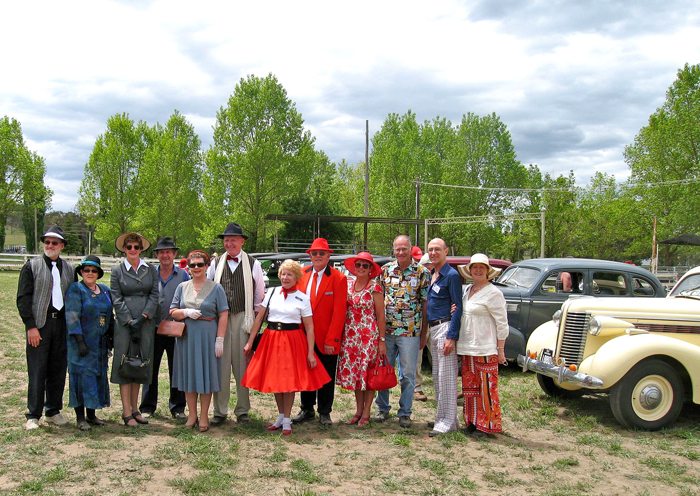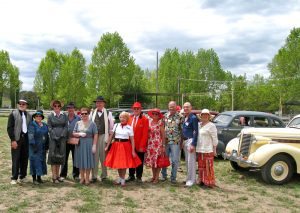 Researched and written by Barbara Gentilcore
Era Fashion
What is Era Fashion? Era: A period of time marked by distinctive character or events.
Fashion: a prevailing custom or style of dress.
It is said the changes in technology, leisure, work, cultural & moral values, home life & politics including war all contribute to lifestyle trends, which in turn influence the clothes we wear.
How does this relate to Buicks? What a great opportunity to showcase the clothing of the past in conjunction with the Buicks being on show.
Dressing in clothing relevant to the period of your car enhances the overall picture of the cars in their time & compliments the history of the marque.
It makes it more interesting for the viewers and it's fun to dress up!
Where to access information about Fashion over the years?
Google, Wikipedia: Fashion-Era.com
Local Library, photo albums & recollections of your own and those of your families, old magazines & pattern books.
Fashion/Vintage books e.g.: Love Vintage by Nicole Jenkins
Folkwear Patterns with timeless style. mail@folkwear.com
Retro patterns ? Butterick, Simplicity, Vogue, McCalls at Spotlight & Lincraft ? 40's & 50's Vintage patterns available plus check the costume section.
Fashion Sourcebooks by John Peacock
Definitions of Eras in relation to the age of Buicks:
Victorian/Regency: 1837-1901 with hoops & bustles.
Edwardian: 1900-1920
Art Nouveau: (late 19th and early 20th)
Art Deco Early: 1911-1929 including WW1 1914-1919
Art Deco Late: 1930-1946 including WWII 1939-1945
Rock n Roll: 50's & 60's
Hippies: 60's-70's
Vintage Clothing:- Revisit bygone eras with vintage clothing, spanning eras known for fashion that flatters any body shape and creates the perfect feminine silhoutte. Mostly available at markets, op shops, specialised Vintage Clothing Stores.
Retro Clothing: Modern companies that make new clothing from 20's to 70's styles.
The Buick Club & Era Fashion:
Some very spectacular outfits have been on display over the past years at Nationals and East Coast Meets where they have been recognised.
Some of the most memorable that Barbara has witnessed are:
NSW Nationals Hunter Valley 2006  The Porter's dressed in 1900 style.
Qld Nationals Caloundra 2008 – Narelle & Graham Weekes dressed in the style of 1912. Narelle made both their outfits and they looked fantastic and very authentic. Multiple couples dressed up in style.
East Coast Meet Armidale 2009 – Martin & partner Therese dressed in red to match Martin's lovely Red 1956.
East Coast Meet Nambucca 2013 – Ken Forster and Sueann Marsh who dressed in 1925's style everyday and went on to win Best dressed.
Roger Rich & Barbara Elton Runners Up 1931 style and Doug & late Kaye Hawkins Highly commended for 1955 dressing. Fashion Era was also displayed by Dave & Colleen Wilson 1934, Janice Ferrett 1955 & Wendy Gronau 1972
Thank you for your effort with Era Fashion, keep up the great work and enjoy the fun of dressing up!.
1910-1919
Early: High waistlines, narrow skirts, exotic trimmings, elegant creations of Edwardian era.
Mid to late: Hemlines begin to rise as fashions become more practical with women working in factories during WW1. Hair becomes bobbed, although ultra feminine dresses and Mary Pickford style curls are still popular.
1920's (many fashions fastened with buttons)
Early: Loose waistlines suits with long hemlines, full shirts with belts on jackets, loose & baggy with waistlines dropping to hip in 1924. Cloche Hat.
Mid: Shift dresses with no waistline, dresses with straight bodices & collars, knife pleat skirts.
Late: Hemlines rose to knee and dresses more fitted.
1930's (Elegant styled fashions)
Fashions were influenced by Depression, thrift, Wall Street crash, Entertainment industry.
Softer more feminine style, hemlines to the ankle, yoked skirts. Masculine women's sportswear
1940's
Suits, short jackets, cardigans, sheath evening dresses. Influenced by WW11.
Separated, co-ordinating components, classic sportswear, peplums, ruffles, gored, gathered & A line skirts, soft feminine blouses. More home made clothing.
Late: Dior look with longer lengths, fuller skirts ? classic femininity with a nipped waist.
1950's
Early: Dior look still, Coco Chanel, Hats, full skirts, belted waists, plaid fabrics, short gloves, women?s trousers and jeans begin to become popular. Introduction of the stiletto
Late 1950?s: Slim skirts, sweater sets, saddle shoes, penny loafers, strapless gowns
Teens: Circle skirt, ponytails, bobby sox
1960's
Early: Crew cuts, Bouffant Ladies hair, Jackie Kennedy look with pillbox, ? sleeves, Sweater Dress, Mid thigh shifts, sweater dress
Mid: Mini shirts, hot pants, go go boots, short hair or long lanky, mini coat, bell bottoms,
Baby Doll Dress (sometimes transparent chiffon over a contrasting slip) Mini skirt, matching sweater and stockings, Mini coat, Aran sweaters
Late: Capes, matching deerstalker caps 1968-69: Peasant dresses, granny dresses and chunky shoes. Unisex/Hippie dressing ? bell bottoms jeans, love beads, embellished t Shirts, Afros or long and straight hair. Pants suits
1970's (Mini, midi and maxi shirts)
Feathered hair, afros
Satin, cheesecloths,
Early: Floppy long sleeved dresses with empire line, Mini shirts, crocheted vests, turtlenecks, hot pants, maxi skirts, bellbottoms, groovy flowers, platform shoes. A line shift dresses with focus seams, Pinafore, shirtwaister dresses,
Mid to Late: Crochet vests, Smock tops, jumpers, peasant blouses, turtleneck and cowl neck sweaters, earth shoes, lots of denim, jumpsuits, hemlines drop to just below the knee, Maxi, Midi, Halter necklines, Trouser Suits, Hip Length Tunics, the Annie Hall look leather clogs, disco dresses, velour, the debut of designer jeans, Caftans, comfort robes, disco
1980's
A decade of excess ? shoulder pads, hair & accessories.
Parachute pants, acid wash jeans & jackets, leg warmers, jelly sandals,
Mid to late: short, spiked, bleached hair
Posted 06/2014