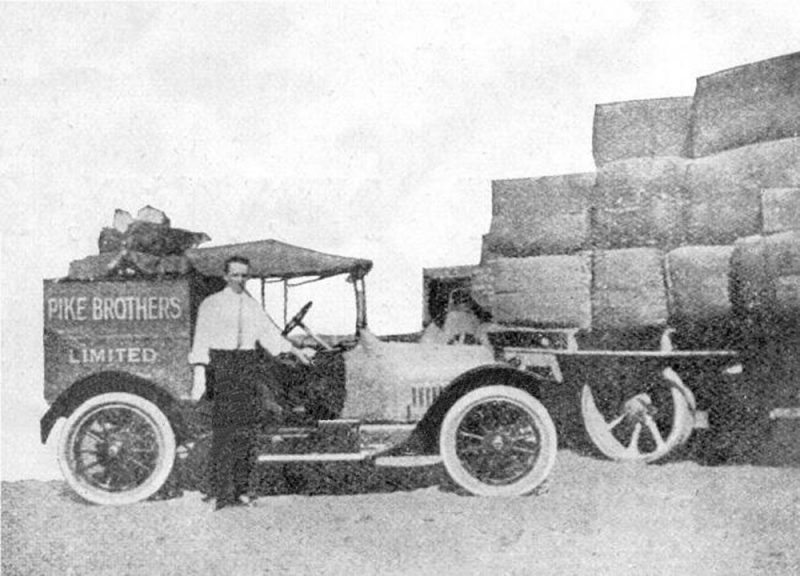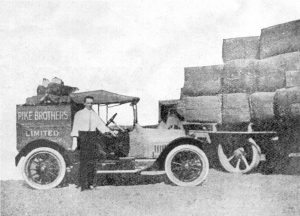 Article reprinted from "The Australian Buick Bulletin" December 1916
Researched and contributed by Marc McInnes from the original magazine.
A Commercial Trip in Central Queensland and the Northern Territory
From the "Steering Wheel"
Picture right shows "Mr E, Scott Miller and his Buick". 
Contributors Note: Amazingly the driver was a novice as he states in the last paragraph. These days conventional wisdom requires heavy duty 4WD with bullbars and 1/2 ton of recovery gear, never travel alone etc, etc.
View a modern map of this epic journey at the bottom of the article
I have just undertaken a trip as Northern Representative of the firm of Pike Brothers Limited, about which I think you might care to have a few particulars. This trip was designed to give me an opportunity of visiting personally the outback places out of reach of the average travelling salesman. Driving a Buick, I think I may claim to have penetrated every conceivable, kind of country as far north-west of Borroloola, and as far north as Burketown.
(Longreach)
As it was raining heavily and being informed that the Thompson River was flooded, and was still rising rapidly, I was prevented from making further headway, and was compelled to remain in Longreach until I was able to cross the various branches of the river. February 18th, I managed to cross, with some difficulty, the water reaching far beyond the axles. The carburettor had to be covered to prevent the water getting in. On the other side I pulled up at West Longreach Hotel. After a short spell I made a start for Winton, calling at the various stations on that road. The tracks were very rough from the recent heavy rains, but I arrived at Winton safely where I met Mr. Jack Armstrong, a business man of that town who kindly offered to accompany me. Thinking of the long and lonely trip I might have had by myself I accepted his offer.
The following morning (on March 3rd), we made preparations and started out at 8 p.m. for the 20 Mile, arriving there at 9:30. The next morning we left for Elderslie Station, where we met Mr..C. Brabazon. From Elderslie we proceeded to Lovell Downs, spending Sunday, returning to Elderslie at evening. Monday morning we left for Lucknow and experienced a very rough time crossing the range. This was accomplished at night time with our lamps to pick out the road for us. The tracks were plentifully, dotted with fallen timber washed down, by the flood waters. When over the range we met a couple of teams camped on the road, and being rather late, we decided also to camp there for the night. The fire still burning we put on the billy, and after tea retired for the night. Next morning we left for Min Min Hotel, which is on the road to Lucknow. At the latter place we put up for the night by the kind invitation of Mr. T. N. Gilmore, an old friend whom I met at Rosedale Station. We left the following morning for Warenda. Late in the evening we proceeded on to Fort William returning again to Warenda next morning.
We left Warenda again after lunch and made for Boulia. When a few miles out we were caught in a heavy thunderstorm, the rain pouring down soon made it very bad travelling but we managed to push through. Reaching the Wills River we were within a short distance of the rural town of Boulia. To cross without assistance seemed rather a tough proposition as all the crossings had been completely washed away, and large sand beds left in their places by the running water. Being too late at night to seek assistance, we decided to make an attempt to cross, and with the good strong arm of my companion behind the car, we succeeded in reaching the other side although it was in the early hours of morning.
After a few days in. Boulia, where we had some enjoyable evenings, spent at Mr. Weigh's home, we procured petrol and the necessary oils, and started out for Bedourie. The sergeant of police at Boulia, being rather a genial sort kindly gave us a black tracker to guide us on our way, the roads being very hard to trace owing to the long grass and lack of traffic. We reached Marion Downs Station, but unfortunately the manager was not at home, and no one being there but a few blacks, we decided to go on to Bedourie. After going some considerable distance we could see what seemed to us to be a heavy storm ahead, coming in our direction. We questioned our black friend and he informed us that it was a Bedourie sand storm, which is prevalent during the early months of the year in these parts. Thinking it was rather risky to proceed we decided to return to Boulia. We had not gone far when the storm caught up to us, and before long the car, although closed in, was covered with sand. Fortunately we carried a shovel, and were able to dig ourselves out. The sand was very dangerous and we could barely see but a few yards ahead. Still plunging through we at last arrived at our destination, where we had a little liquid to wash the sand down.
The following day my friend Armstrong received a wire, requesting his return home as his little daughter was very ill, so, unfortunately, we had to part, my friend taking the coach next morning for Cloncurry. Here (Boulia) I met Mr. Coglan, manager of Roxburgh, whose Company I was pleased to have as far as Roxburgh. We left at 11 o'clock for that station, and after some rough traveling across country, the road being mostly a wash away, we reached Roxburgh that evening. The following morning I started out again for Carandotta Station. Having no company it was rather a lonely travel. When about 20 miles out I was caught in the rain which continued very steadily until I arrived at Carandotta. I was welcomed by Mr. McKellar, manager. After spending a few hours at the station, I proceeded to the shearing shed, where the board was in full swing. As the rain commenced to pour down very heavily, and the wind was blowing a gale, I put the car under cover and camped at the shed that night.
The following morning I left for Urandangie, calling at Wolgra Station, where I had lunch, and arrived at Urandangie at 5 p.m. Here I met some drovers, including Sutton Brothers, of Longreach, who were taking sheep to Ayrshire Downs. I left for Headingley Station and arrived there that evening at sundown. The following day I set out again for Lake Nash where we spent the night, and then. proceeded the following morning to Austral Downs in the Northern Territory, arriving at 8 p.m. that evening. Here I met Mr. Lamond.
Next day, I started out for Camooweal, the road to which was very rough and seldom used. On arrival at the Georgina River, which was at this time running from the previous rain, I had difficulty in finding a place at which to cross. Seeing no other means of getting over and trying the depth of the water by wading in, I decided to venture with the car. On getting down a steep embankment, which was very rocky, though unnoticeable by the long grass, I had the misfortune to damage the gear box on a hidden stone. It was then time for me to get out and get under, and I lost no time in proceeding to repair it temporarily to carry me in to Camooweal, a distance of about 20 miles. Having some wire with me (considered by the men of the west, "The Bushman's Friend", I repaired the damaged part sufficiently well to proceed. This carried me to Camooweal without further trouble.
Here I met Birtles the "Overlander," who had just arrived from Urandangie. He was camped at the Chinaman's water hole, just down from the hotel, for just over a week, and then left for Burketown, where he spells for three months, fishing, alligator shooting, taking pictures of the blacks which he sends below. While in Camooweal, I met Mr. Campbell, the manager of Rocklands Station, who after being informed of my misfortune offered to repair the car, he having the necessary tools, etc. I then took the car out to Rocklands, and I found, on arrival, that they had quite an up to-date engineering shop. I left my car to be repaired at their convenience. A few days later the car was returned to me being driven in by Mr. Fraser. On approaching Mr. Campbell as to the cost for the repairs, he quietly informed me that no charge was made in those parts, it being a hobby of his.
The following day I started out to Herbert Vale Station, and when about 40 miles out, I was again caught in the very heavy rain, and was unable to proceed further owing to the ground being so boggy. I was compelled to pull up and arrived at Rocklands at 9 p.m. drenched to the skin. (did he walk back?) The weather having cleared the following day I decided to make an attempt to get the car in to Rocklands. Mr Campbell having advised me not to take the track to Herbert Vale, owing to its being too rough. On arrival, and fixing up the car, I then made a start, but after a few miles on first gear over the plains, the ground was too boggy to travel, the car in many places being bogged to the axles, so I decided to pull up and camp for the night. I made a fire, boiled the billy, and partook of what rations I had with me, after which I got the blanket and camped near the fire, where I was quite content to remain for the night. The following morning the sky was beautifully clear, so, making myself some tea, I packed up and proceeded on to the station, ( Rocklands) arriving there in the afternoon, I then went into Camooweal.
I left there the following morning for Avon Downs Station in the Northern Territory. I arrived at Avon after a good run, and met Mr. Lloyd, the manager. Shearing being in full swing, the shed and station hands held an afternoons sports meeting in aid of the Camooweal hospital. There was a good attendance from the station and also the shed. A fair amount was realised. On Sunday morning I started out for the Rankin, 50 miles further on, and arrived there at evening. Leaving the Rankin next morning for Brunette Downs thence to Borroloola, I travelled some considerable distance, following the mailman's pad. I decided to camp for the night on the bank of a creek. Preparing again for the road, I started out about sunrise and had been on the track but a few hours when I met the mailman, Grant, from Borroloola.
I turned to the Burketown road for Morestone Downs, and reaching the O'Shanassy River, I fixed camp for the night. Getting an early start next morning I proceeded on to Morestone Downs. Leaving Morestone the following day I left for Gregory Hotel, arriving there at 8.30 p.m. Crossing the Gregory which was the only flowing river in that part, I reached Gregory Downs Station, situated on the bank. Returning from Gregory Downs, I proceeded on as far as Burketown, arriving there on Thursday, 11th May, at midnight. On Monday morning Mr Petitt and I drove back to Burketown.
From Burketown I started on the Cloncurry road and made for Lorraine Station. When about half way I noticed a camp at a short distance from the road. On going over I learned that they were contract fencers, and was surprised when heard that all in the camp (16 in number), had been stricken by Beri Beri, one man having died. The others were waiting be conveyed to the hospital. After a brief spell, since was of no assistance to them, I proceeded on to Lorraine Station, arriving there in time for lunch. I met Mr Kirkaldy, who has been managing the station for over 18 years – canny old Scot. After a pleasant night, I made further tracks to Glenormiston Station. Just before sundown, while going along at a fair pace I passed mob of dingoes busy devouring a dead kangaroos. I was at Glenormiston in the evening at 8 p.m. The following morning left for Granada Station, managed by V. C. Fussell, I then proceeded on to Quamby Hotel thence on to Cloncurry, crossing all the creeks which other cars were, I was told, unable to do without assistance.
On reaching Cloncurry after a couple of day's spell, I then left for Mackinlay. From there I went across to Strathfield, returning to Mackinlay the same day. I left next morning for Kynuna, calling at Eulolo station on the way. Arrived at Kynuna, I started for Maxweltown, calling at Crendon, Tarbrax, and Hamilton arriving at Maxwelton at a rather late hour. Being unable to rouse the people, of the house, I went on to the Camp Hotel or rather "One Eye", kept by Robert Marques, where I managed to get a camp without any trouble. The following day I crossed the river and visited Poverty Point, calling at Molesworth on the return. I then drove to Maluba, owned by Mr. Douglass, who kindly invited me to remain for the night, an invitation which I accepted.
I left next morning for Richmond, arriving there in time for lunch drove the following day to Marathon, arriving in the evening just as the rain commenced to pour heavily. I met Mr Dixon, the manager, who kindly invited me in to dinner. By the next morning the sky was quite clear, and although the roads were very heavy by midday I made a start to Telemon where I Met Mr. Macalister, the manager, a fine old gentleman. That evening I left for Hughenden, arriving there at 5 in the evening. After dinner I ran on to Alba Scour, where Mr. Halloran gave me comfortable quarters for the night. From Alba I proceeded on to Stamford, visiting the surrounding stations in the district and proceeded on to Winton. From Winton left for Longreach at 1 p.m arriving there at 5 p.m. a distance of 128 miles.
In all, the trip lasted three months, and the mileage covered approximately 7,000 miles, a goodly proportion of the time I was alone and hundreds of miles from human ken. When you take into consideration the fact that I had only a few days tuition in the Buick before I started on my trip it speaks volumes for the little car
E. Scott Miller
Posted 02/2004