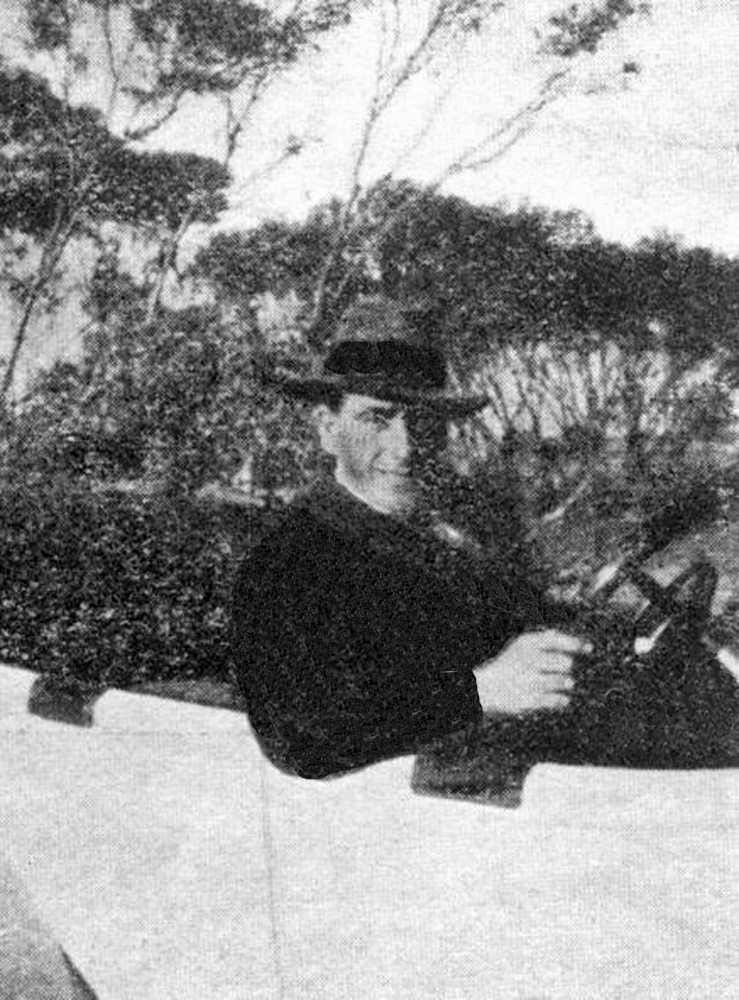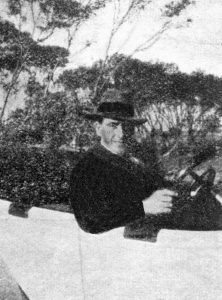 Article reprinted from "The Buick Bulletin of Australasia" June 1920
Researched by Marc McInnes from the original magazine courtesy of Eddie Ford
Buicks and Golden Grain
Attached Photo Caption: Mr. L M Gilbert, Maitland SA, Buick Agent
Mr. L. M. Gilbert, of Maitland, Yorke's Peninsula, only pushes quality goods, and fixed on the Buick Agency last October, and, despite abnormal conditions of trade, twenty-four of these cars have been placed in commission in his territory, and are giving entire satisfaction.
Reports to hand so far indicate good results in petrol consumption, 24 miles and upwards being got in many cases, and bearing in mind the newness of all the cars placed in his district, the future for Buicks looks rosy. For speed, endurance and riding comfort the Buick holds first place in Mr. Gilbert's opinion, backed up by 15 years of practical engineering experience, and the absence of tail swinging in the Buick accounts for the economical running of the car.
On his numerous visits to Adelaide, the notorious Wakefieid swamps have to be crossed, and whether in fairweather or foul, no detour is ever made by the Buick, as the great power so evenly delivered by the valve-in-head motor, coupled with the even balance, and the absence of unsprung weight of the whole outfit, enables the Buick to travel this muddy stretch most times on high gear. On the return journey, the Hummocks have many times been climbed on high gear with six adult passengers, and anyone knowing the grade and class of road encountered on this hill will appreciate what a good performance this is.
Several long distance high speed drives have been undertaken by Mr. Gilbert, the best performance on the Buick chassis, in company with Mr. A. B. Moody, being Maitiand to Adelaide, 105 miles, in 2 hours 31 minutes, including crossing the Hummocks; and Adelaide to Aldgate via Mount Lofty, 12 and 1/2 miles, in 25 minutes. Mr. Gilbert believes in speciaiising in one car, and the Buick reputation will build him a permanent asset.
Attached Photo Caption: L. M. Gilbert's Garage at Maltland, S.A.
BUICK Agent for Yorkes Peninsula-one of the most, if not the most, prosperous wheat growing districts In S.A.
The Buick has a great hold on the Peninsula, and is immensely popular. 24 of the new "Sixes" have been placed just recently by this enthusiastic Buick Agent. 1
Here are some letters Mr. Gilbert has received from Buick owners in Yorke Peninsula.:-
"The Buick purchased by me in 1917 from Eyes & Crowle, Ltd., is still running well, having completed 1500 miles without any mechanical attention. My total repairs bill is 9/- covering this period, and I have three of the original tyres still on the old bus. Petrol consumption shows 25 miles.per gallon, and for sweetness of running I think the Buick takes some beating. As an appreciation of Buick quality, my brother has just purchased a latest model, and I know he will have a good time with same.
Yours for continued success,
(Signed) E. W. DAVIES.
Urania, S.A., March 22, 1920.
I purchased my third Buick last November, having had two previous models, and think the latest production quite up to Buick standard. I have received every satisfaction from my cars, averaging quite 25 miles per gallon of fuel and about 1600 miles on oil. The mechanical attention is practically nil, and the tyre mileage very high, but the fact that impresses me most is the unusual secondhand value of Buick sixes.
Yours truly,
(Signed) E. CROSBY.
Arthurton. SA, March 20th, 1920.
I have only used the Buick to date as a chassis, awaiting , a single-seater body, but results so far indicate a high quality job.
I have owned and driven for some time various makes of cars, but Buick for mine. The 'Scooter,' as she is called, did ,a fast trip to Adelaide in 2 hours 31 minutes, with your local representative and myself on board, some weeks ago, and the time will take some beating. Petrol consumption, I can vouch, has reached as high as 28 miles per gallon, and oil consumption is extremely light, and I almost forget the water in the radiator.
A. B. MOODY,
Gortmore, SA
Posted 01/2003