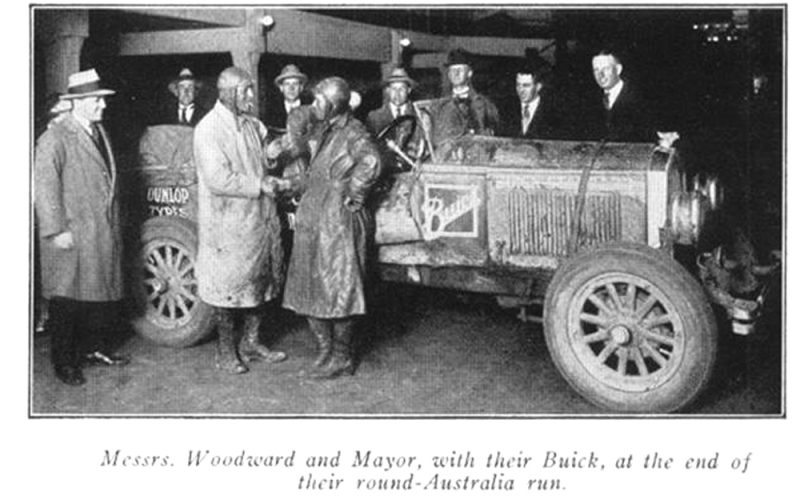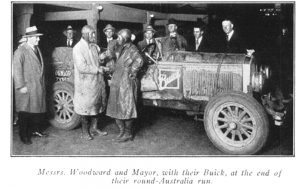 Article reprinted from "Motor Progress" Nov 1927
Researched by Marc McInnes from the original magazine
BUICK COMPLETES RECORD TRIP ROUND AUSTRALIA
A tour of unusual interest which has just been completed was that recently undertaken by Messrs. Woodward and Mayor in a standard Buick car. These motorists, who set out with the intention of breaking the record for the run right round Australia, left Melbourne on August 18th, arriving back on October 3rd, six weeks later, only 19 days of which constituted actual driving time.
This trip has never before been completed in less than three months, so that the 19 days is regarded as a great achievement, particularly with respect to the conditions under which the trip was run. An unfortunate occurance near Cue, West Australia, where a ?spoon? drain was struck, when the car was traveling at high speed, resulted in the drivers having to spend ten days in hospital, their car having turned over.
From Cue to Melbourne, a distance of 2750 miles, Mr Mayor had to do the driving alone, as Mr Woodward?s dislocated shoulder, which he had sustained in the accident at Cue, would not permit of his taking the wheel. Driving for a speed record is a trying ordeal at any time, but where one man has to do all the driving for many hundreds of miles the nerve strain is very great.
Both Mr Woodward and Mr Mayor expressed themselves as keenly disappointed that, due to these circumstances, they were unable to break the record for Perth to Adelaide run, although they covered the distance in almost record time.
The whole trip was one of adventure. The route followed was via Sydney, Brisbane, Rockhampton, Katherine River, Darwin, back to Katherine river and thence to Derby, Broome, Port Headland, Marble Bar, Meekatharra, Cue, Perth and Adelaide. A large portion of this route was over unmade roads and the traveling was at times very rough. Between Katherine River and Darwin, a distance of 220 miles, there were 92 creeks to be crossed. In another stretch of 50 miles, there were 80 gates to be opened and shut again.
Dense prickly pear country, with no sign of a track through it, had to be traversed; long stretches of sand had to be crossed, where ordinary travelers use the camel. Here the motorists deflated their baloon tyres and so were able to negotiate the sand in top gear – in one place the sand stretched for sixteen miles without a break, but no difficulty was experienced.
In another district there is a steady hill-climb of 36 miles, but even here the Buick engine lived up to its reputation. In only one place on the whole trip did the Buick have to get help-this was at the Fitzroy River, in West Australia-a crossing which no car has ever been known to negotiate unaided. a team of donkeys is usually employed to haul motorists across the river, the bed of which is a mass of quicksands. However when Messrs. Woodward and Mayor arrived the donkeys were not available, so the Buick was hauled across by aborigines-surely a unique spectacle.
Mr Woodward cannot give sufficient praise to the Buick. He has driven a Buick for many years and knows its merit; that is why he decided to do this trip with a Buick. But even with his knowledge of the car, he was amazed at the performance of the Buick on the trip. No engine trouble whatever was experienced, and not one item of the stock of spare parts which was carried was required. It was an outstanding tribute to a car that it could travel nearly 10,000 miles under the most indifferent road conditions, over sandy stretches and through inuberable creeks, the whole trip at a high rate of speed and required no attention whatever from its driver.
This Buick was a standard model taken from stock and carried a load equal in weight to a Buick sedan, so the achievement ranks as one of exceptional interest in the long list already to Buick's credit.
Posted 01/2003