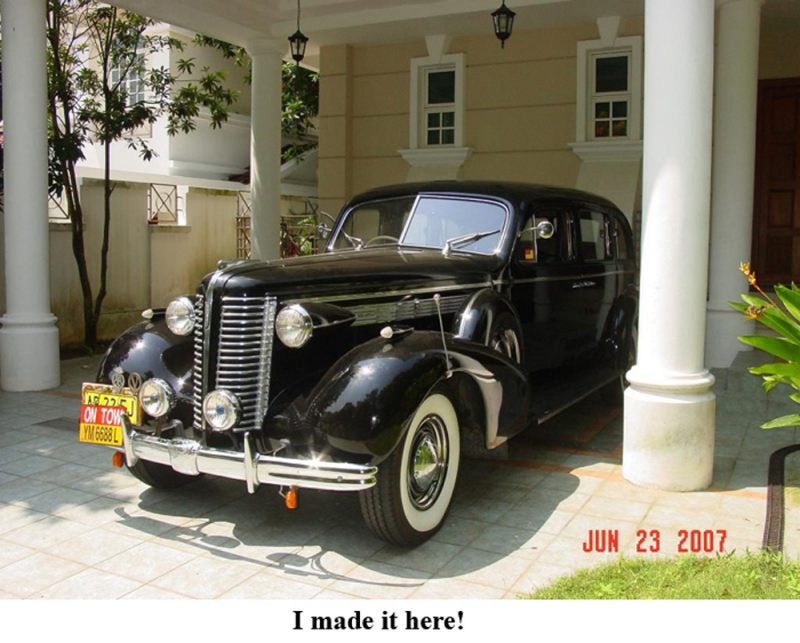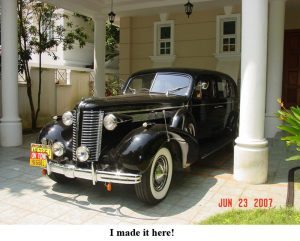 BCCA off shore, member David Thomson, has recently purchased and imported Basil Keir's former 1938 McLaughlin Buick 90 series seven passenger Limousine into Singapore. This beautiful McLaughlin, seven passenger limousine, with glass divider, is believed to have been specially built for the Dutch Government Fleet of 1938 and brought to Australia prior to WW2. Designed as a processional car the rear seat is raised higher than normal. Big, black and beautiful, it has been rebuilt from ground up.
David tells of what's happening in Singapore
"The Buick arrived safely and cleared customs etc without too much hassle. Started up relatively easily straight out of the container once some petrol was poured down its throat and I'm happy to report that I was able to get the car registered successfully last Friday [a saga in itself!] – just in time for her first event on the weekend. "Willy" now sports the Singapore number SN 8161S.
Driving here in such a car has been an experience. The biggest hazard has been other drivers somewhat distracted by the Buicks size – a few emergency stops have been necessary but if driven defensively it all seems to work out. The heat hasn't posed too much of an issue. I suspect I will need to replace the core to get better effficiency as it doesn't like sitting in traffic too long. On the road and moving seems fine however. Night driving is testing as the 6 volts struggle with both lights and indicators! May have to switch to 12.
Attached are some photos of the shipping and arrival as well as our recent event at the Singapore Museum. Wilhelmina was well recieved in her new home."
Posted 09/2007