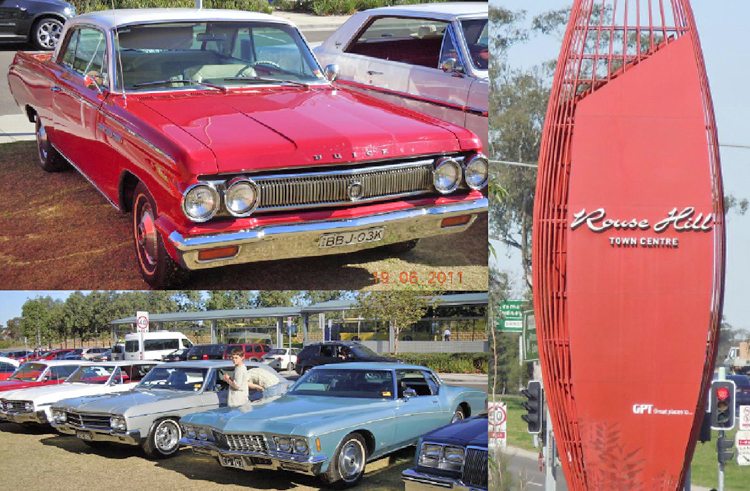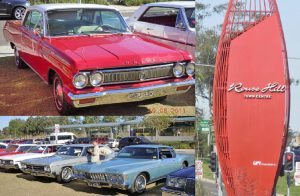 Story Barbara Gentilcore, Photos Francois Vivot, Dawn Castle
It was a lovely sunny but cool day at the Rouse Hill Town Centre on the Village Green. A great display of 25 cars attended to be admired and judged. As is usual on a Sunday morning, the journey from the northern side of town encountered many people out walking the dog, raking the leaves in the front yard or on their bikes cycling.
Once the car was parked it was off to find a sunny spot to warm up in the very fresh air. The day included lots of groups chatting, wonderful shopping with lots of June sales, photo printing, coffee breaks, group lunches in the food court, knitting and sitting in the sun.
Judy and Kevin Mugridge called in to visit along with Banjo, Adrian Dearling and family from the Qld club visited and it was great to see Eric and Margaret North all the way from Armidale.
It was nice to see some new faces attending and also some new cars! Along with the regulars, welcome to Phil & Diane from Milton NSW ('68 Riv), Wayne Benedetti & Lyn ('66 Riv) and Bob & Jan Caleo's new baby all the way from the US of A, a very nice 1979 Riviera. The Spannenberg family were well represented with three Buicks and the Gerdtz's had two Buicks on show. The Rallings' & Saddington's travelled some distance from Wollongong and Lake Munmorah too.
Thanks to the three volunteer judges from the CMC for their very efficient and impartial judging. After a leisurely morning soaking up the sun and bargains of the day, the winners were announced and then everyone gathered for the traditional group photo. Eventually the groups dispersed home after another 'Buickful' Day.
Congratulations to the winners of the Town Centre's Best Car Award to Colin and Dawn Castle for their lovely 1929 Roadster. They received a $50 Gift voucher from the centre. Thanks to the Rouse Hill Shopping Centre management for their generous support and enthusiasm for a great Concours Day.
Congratulations to the other winners on the day:
1910-1930 Frank Hall (1926 Coupe)
1931-1940 Noel Humphries (1938 Sedan )
1941-1950 Owen Mansfield (1948 Sedanette )
1951-1960 John Slater (1953 Super Riviera)
1961-1970 Wayne Benedetti (1966 Riviera )
1971-modern Tony Gentilcore (1971 Riviera Boattail)
Grand Champion Tony Gentilcore (1971 Riviera Boattail)
Actual trophy presentation will be on August 14th at the Changeover luncheon.