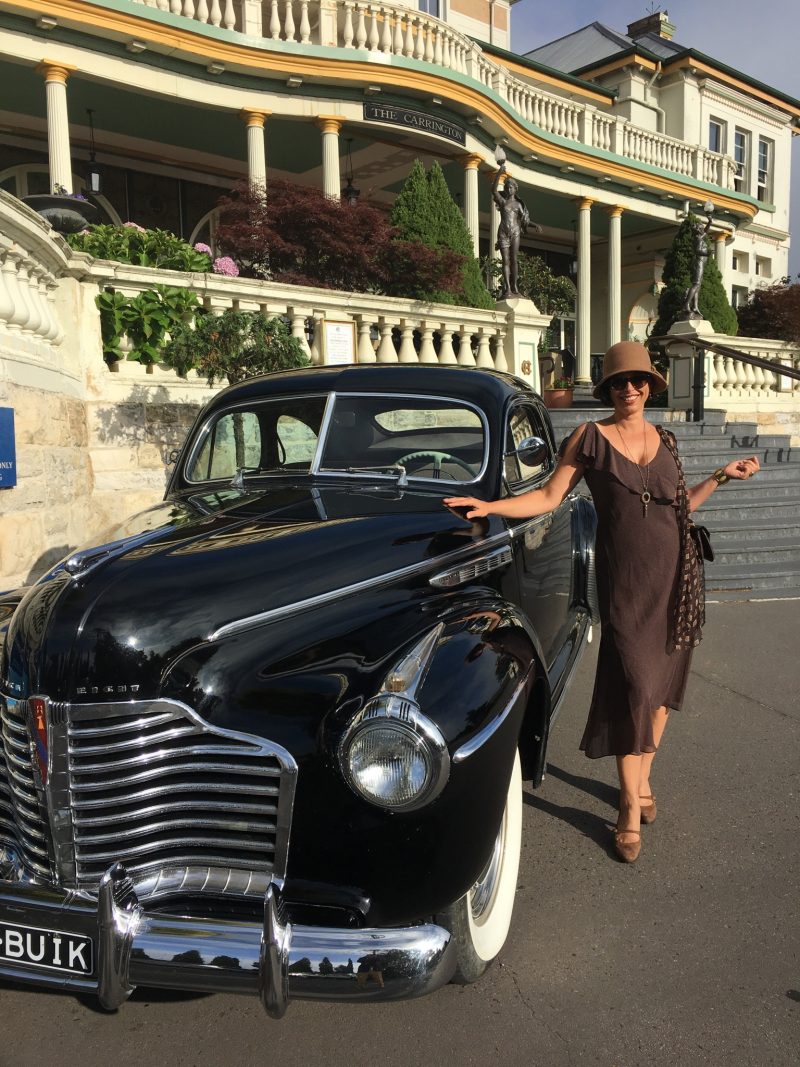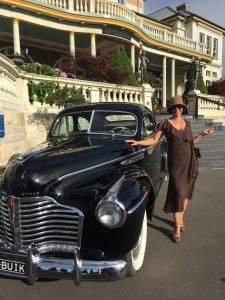 If you had asked me previously about cars and I would have said I don't care what it is as long as I its fuel efficient and runs. But ask my husband you will get a totally different answer and after several years of subtle hints of him saying 'before I die I would love to own a classic car ' I succumbed to his mind games as this is usually how he gets what he wants and I get pretty tired of saying no!
I do have to admit that in recent years we have fallen love with all things from the 20's 30's and 40's even amassing a large collection of vintage attire and attending swing dance classes which is a big thing for my husband who I have never seen dance since we met 32 years ago.
It did also feel rather silly driving up in a Hyundai i30 in our vintage clothes, so a classic car would really be the icing on the cake and we could feel complete.
So this is how my husbands dream came true!
One day on our way back from a recent holiday to Berrima we saw a sign saying swap meet and vintage cars so we dropped by to have a look at what was on offer, for me it was really more for the swap meet than the cars. After spending time hunting for bargains we wandered on down to the car display, many were hot-rodded up but a couple of originals really stood out. One in particular was a beautiful dark green Hudson and we had a chat with the owner who proudly showed us around his pride and joy. We liked it so much even I (who was previously unconvinced of actually getting a classic car but happy to just look and keep hubby happy) asked him how much it would cost to take it off his hands, he reluctantly gave us a price but considering he did not want to sell I am sure it was well above what its real value was. We exchanged phone numbers and luckily we never received a call.
After jumping back in our little modern car it was easy for my husband to push me over the edge and convince me to agree on a search for a classic car of our own.
So over the next month I would catch my husband trolling thru the car sales websites looking at many a vintage car but to convince me of such a big purchase it had to be a beautiful thing in my eyes too. Finally he came across a sleek black 2 door 41 Buick, funnily enough I had been doing my own searches and the same one caught my eye, so we agreed to at least have a look at it.
Another thing to consider in the equation was the time and money that needed to be spent catching flights to other states to see cars that may or may not be in good condition sellers always seem to have the upper hand because they know you are not likely to go home without it unless there is something drastically wrong with it. Also not being experts on classic cars we did not know what to look out for so it was very important that we took with us a great mechanic to do a thorough inspection.
Lucky for us we had the perfect guy 'John' – an engineer mechanic who had worked on old cars and the 'go to' guy for all the other mechanics to fix things they could not. Plus a very precise and super nice person who lived in town and was happy to travel down and have a look at the car – this ended up being even better for us when the owner offered to drive it up to Wentworth Falls where he was getting some work done on one of his other cars.
We arrived early and 20 minutes later watched the sleek black beauty driving up the road and tried to contain our excitement. Many classic cars we had seen previously on the side of the road or at swap meets had rather sad interiors or terrible interior restoration choices and were a bit of a disappointment but not this one – just a beautiful classic tan interior and a stunning instrument console – very stylish!!! Our mechanic John being the cool calm and collected sensible guy he is promptly went to work going over the car inch by inch and explained any work that needed to be done even surprising the owner with his vast knowledge of cars and he told us it was a very straight honest car which I took as being a good thing and he gave us an estimate of works it needed to get it up to scratch. We would have loved to take it back home there and then but we left the owner with our offer and negotiations continued for another couple of weeks until finally a call came saying she was all ours – thank god because another couple of weeks of tension was really going to test our matrimonial vows!
It's been 6 months now and after a few weeks with John our mechanic who managed to squeeze us in to his schedule and waiting for parts to arrive from Bobs Automobilia in America the 'go to' place for Buick parts she is running like a dream.
She has also been given a new name 'Black Dahlia' and has been on many an outing. A few very hot February days really put her and us to the test even though the air vent and aero dynamic design does work wonderfully well 38 degree days should be spent in front of an air-conditioner watching TV not driving around in a Black car wearing fur, fancy clothes and doing the Charleston!
Autumn has turned out to be a real stunner and we are looking for any excuse to take out the Black Dahlia for a drive, winter looks very promising too with a few tweaks to the Carburettors (well at least I think that's what they tweaked) and new spark plugs she starts first pop every time and purrs away like a kitten.
I will say that having a classic car is kind of like having a new member of the family she is much loved and we are very proud of her – the amount of nods and thumbs up we get from people as we drive past by is truly astonishing and others who stop to inspect and admire her while parked on the side of the road and say that's not a car it's a piece of art! We can only nod and agree she is a beauty.
It would really be nice to know what she has been through in her long life but she has certainly not lost any of her beauty thanks to others before us who have taken the time to ensure she continues to shine for many years to come.
I can now finally say my husband will be happy until his dying day and I am very happy too!
Fiona and Michael Djatschenko