55 Estate Wagon picked up in Missouri, then drove it across the U.S.A. .. 4,700 Miles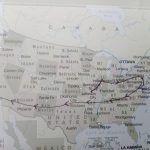 The low mileage [46,000 miles], original condition, Buick 1955 Estate Wagon called out 'buy me, buy me' from the internet. Tentative approaches were made, to both the dealership and my wife – the latter being the harder negotiation! A price was agreed and I started making plans to travel to the USA to collect the car.
The car was located in Missouri, and I had to get it to California for shipping back to Australia. So I thought I would drive the car across country, making a holiday of it at the same time, meeting up with Buick contacts I had spoken to and dealt with over the years, and attending the Nationals along the way. Wife and friends thought I was quite mad buying a 65 year old car sight unseen, and then planning to drive right across America knowing that it hadn't been driven since the early 2000's. But life is an adventure…..right? So armed with 2 suitcases, mainly filled with tools, and a 1 month USA driving permit, I left Coffs Harbour to complete a trip from my bucket list!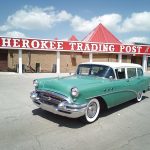 On first sight, the 55 Estate Wagon was different to what I thought it would be, appearing smaller and lower to the ground than the 1940's Buicks, yet very roomy inside. Which was fortunate as the car also came with period luggage cases, picnic basket, ice cooler, Life magazines and other paraphernalia from 1955 together with a large framed memento displaying the car's original sales receipt, log books,original loan paperwork and service history etc. plus an extra front windsreen [just in case!] packed safely inside. To which I had to add my 2 large suitcases and myself and still have enough room to sleep in the car if conditions dictated.  Amazingly, it's versatility of being a wagon meant all fitted fine.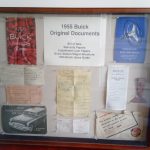 I decided to drive straight to Chicago to visit a couple who I had been buying parts from for over 20 years, and yet had never met. Driving on the right was a new experience for me, but, apart from the odd mistake when turning corners, I got the hang of it quite easily [perhaps down to the great interstate freeways the USA offers!] . After 7 hours of driving I was getting a severe miss in the engine, but I made it there. On investigation, both the original battery leads were completely corroded so I was running on the generator for hours and it was hot. The problem was easily fixed by changing the battery leads & the plugs. After staying there for 3 days and picking up some n.o.s. I was now on my way to Delawaire to meet the Buick farmers.
This was a big leg to drive, I left Chicago at 10AM and drove non stop until 6AM the next morning before feeling I had to stop and get some sleep. That was how well the car drove, probably aided by my adrenaline of a dream come true – driving a classic car across America! Apart from a steering vibration caused by recapped cross ply's, the car performed flawlessly.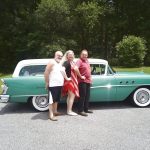 I stayed with Doug and Monica at the Buick Farm for 6 days, I ordered 4 new Coker American Classic white walls, and bought a lot of n.o.s. for the 55. The collection of parts the Buick Farm has is unbelievable, over 80,000 n.o.s parts. This is by far the biggest collection of New Old Stock I have ever seen and after 6 days amongst it all I did not even see half of it.
Whist there, I made a few checks on the car, i took the carb off and gave it a good clean out. The fuel over there is terrible – running 40-50% ethanol with the cheaper fuel options and the older cars do not like it, plus it also destroys fuel hoses. So I always ran premium fuel during my travels in America. Although still not brillaint, it is around 15-20% ethanol which is much better.
I was now heading for Oklahoma for the Buick Nationals, I had 3 days to get there which I thought was plenty of time. With a few options on how to get to Oklahoma, I decided to go via Tennessee.
Sixteen hours into the journey, I pulled up at a garage, somewhere inside Tennessee, and there was a screaming noise coming from the engine. I lifted the hood and was greeted by a red hot generator, with sparks flying everywhere. Impressive, but unwelcome!! I knew i was in trouble now,I had a new armature with me and new field windings, but no vice to help change it all .
I sat there for about an hour thinking about it, then some guy came up to me and said… do you need a hand?  I told him the problem I had and he made a phone call. 30 minutes later, someone else shows up with 3 generators in his car.
I will never forget that night… We were there till midnight rebuilding this generator, then we got it going again. This guy wouldn't accept any money off me and didn't even tell me his name. He was a mystery man chewing tobacco, who came and left. That's America for you, and at that time all I could think was God Bless America!!
With the stress and late hour, I slept well that night! Heading off again, I was now worried I may not get to the Nationals in time so I really pushed the car that day, only stopping to take a 4-hr sleep break. Still in Arkansas, but not far from the Oklahoma border, I entered the freeway travelling at 60 mph, when "Bang" ….. the R.H.R tyre blew out. The time it took me to stop  [ about 15 seconds] completely destroyed a 3 day old white wall tyre – I didn't have time to cry!! Luckily, I had made sure a spare tyre and jack were in the car before commencing my tour. However, neither had ever been used before. So for the first time in 64 years out came the spare tyre, wheel brace and jack and a quick wheel change was achieved.
I still had at least 4 Hours drive to  Mid West City for the Nationals, and I knew if i got another puncture the car would have to be towed as I obviously  didn't have another spare. It rained part of the way [not a great time to find out the wipers didn't work!] and there were road works diverting traffic off road = mud, mud and more mud! I finally got to the Nationals at about 10.30am – The car was filthy, had 3 white and 1 black wall tyre on it, and I didn't care …..I had got there!
Although I was dog tired I enjoyed the last day of the Buick Nationals.  I saw some beautiful cars and met Logan, from Cars N.J, Bob from Bobs Automobilia, and Frank from the Buick Ranch,  plus many more. To top it all, my car received an award for 'Archival Preservation' – I was so pleased. Everyone was very taken by the car at the Nationals, many saying it is the only one they have ever seen. I had to stay in Mid West City for 3 days, waiting for a new tyre plus another spare from Coker.
My last leg was to drive to California, via Route 66. I was really looking forward to this part of the journey. Unfortunately, much of Route 66 is not accessible any more – only service roads and some are closed off to the public. So 40 West was the only option. It runs alongside Route 66 so I still saw the old road, with its abandoned derelict buildings that seemed to shout 'broken dreams'. I found a lot of Route 66 very sad.
Driving through Texas and New Mexico was some of the hot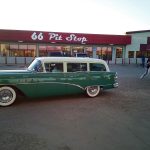 test and most drought stricken country I have ever seen. The temperature was in the mid 40s every day, even the locals said it was unusually hot. There were cars broken down on the side of the road everywhere, "boiling over". I drove for 12 -15 hours straight through each of those States and never once did my 55 overheat. perhaps confirming 'they don't make 'em like they used to'!.
The Grand Canyon in Arizona was beautiful and stunning to see. However, my journey coincided with some phenomenon which only happens once every 50 years. The Grand Canyon is amazing but sharing it with about 10,000 other people kind of took the magic away!
With only 2 days left on my driving permit, I eventually delivered the car to Compton, California – we had successfully made the trip of a lifetime together and I am sure Dad was there with me in spirit, and very happy.
Apart from the time I stayed with friends and whilst at the Nationals, I slept in the car the whole journey. The Love's and Pilot truck stops all have showers, laundry facilities, and good eateries, and sleeping in the car meant I didn't have to keep to any iterinary. I was free to come, go and sleep as I wanted, and along the way I met a lot of interesting people also staying at these truck stops. Mainly, we were all doing the same thing. Travelling America on the best Interstate road network in the world,  whether being homeless by choice or circumstance, seeking better opportunities along the way. I must admit I have never been so tired in my whole life as I was on that tour, but I loved it. After all, there is always the flight home to catch up on my sleep!
Touring America in a classic car is the only way to do it. Every time I stopped people would come up to admire the car, offer to help, and/or give good advice. Many people who were familiar with the 55 Buick came up to me and said they have never seen a 55 Estate Wagon or even knew they existed. I have done some quite extensive research into the 55 model 49 Estate Wagon since I bought it. There were less than 3000 made which is the lowest production model of the entire year. Now there are only 5 of these known to be still roadworthy in existence. A very special car, of which I now proudly own and enjoy.
Dazmac car imports brought the car here for me without any issues at all. They are licensed Customs and quarantine agents set up to do the entire process. All you need to do is obtain an import permit then deliver the car to Compton, California. They will then take care of everything.Very easy.
Tony Huckle