1987 Buick LeSabre Coupe
Mechanical/Specs
Six cylinder (V6) –  OHV Capacity –   3.8 Litres Bore/stroke –97×86 mm
Power – 125 Kw  (Est. based on Commodore) Transmission – 4 speed auto
Wheelbase –   2.6m (est)  Top Speed –  180 kmph (est)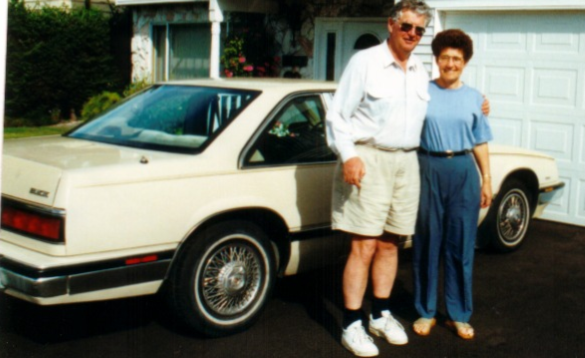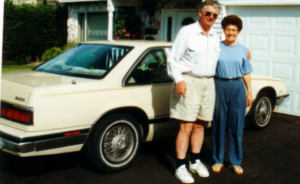 The Buick was purchased by Square Dance friends in Vancouver, Canada in August 2000 for the purpose of allowing Norma and I to travel round Canada and the USA. The car had 193,000 kms on the odometer (yes Canada are in metric) and cost Can$1,100, about $A1,250 at the then conversion rate. We had sent over Can$2,000 and hoped that would be enough, even after a service and some minor work on the brakes there was plenty of change waiting for us when we collected the car. As can be seen from the above it had the engine that was later adopted by GMH for the commodore.

The Buick is the first, and at time of writing, the only FWD car that I have owned. Stories about vices of front wheel drive cars having "torque steer" etc were unfounded as far as I was concerned as the car handled adequately and was very pleasant to drive. It was the highest geared car that I had driven with 1700 RPM sitting it on 112 kmph or 70 mph. It rolled along across the prairies nearly like it was in neutral, of course you also knew it was high geared when you came to a hill.
The car was very smooth and comfortable having an extra layer of padding built into the front seats. Features included cruise and climate control, electric seat and mirror adjustments, ABS and outside temperature indicator. Being high geared it was very economical returning 8 litres to the 100km on long flat running. I drove it 5,000kms without it putting a foot wrong. This all ended one very hot day in South Dakota when we lost both the overdrive and air conditioning.
As we were within 2/3,000 kms of our car club friends in New York state I decided that I would nurse it in top gear and do without the air. So as not to drive it too hard I dropped our speed from 70 to 60 mph. Next morning in Rapid City we travelled some distance before the car changed from low to second, and the same again from second to top. I took the car to a mechanic that the hotel suggested and he was less than interested saying that it would cost more to fix than the car was worth.
We drove the car all that day in close to 40 deg heat. On approaching a town called Mitchell still in South Dakota we noticed several billboards advertising a transmission repairer. As I had no wish to leave Norma stranded in a hot car if we broke down I took the car in to the repair shop. Darryl, the young foreman had a look at all the easy things like the linkage etc and then took the car for a test drive. He advised that the transmission would have to come out to fix it. The good news was that whatever it needed he would have on hand.
We thought that it was 4 pm on the Friday afternoon when we pulled in but we had gone through one of the many time zones in the USA and it was 5 pm. Darryl and his offsider started on the car and had the transmission out that night. He lent us an old Ford Crown Victoria to have a look round the town which I guess had a population of about 25,000. It was corn festival time and we thoroughly enjoyed out night in Mitchell
Darryl and his offsider, knowing that we were stranded tourists, came in at 3 am the next morning and had our Buick parked out front ready to go at 8.30 am. No extra was charged for the early start and cost of total rebuild was US$1,600 plus tax. That at the time was about $A3,000, but then our exchange rate was not their fault. I'm sure that it would have cost more in Aust.
The car went like a charm for two hours and then this awful noise from under the bonnet (sorry hood) and the first thing I could think of was Darryl and his mate being half asleep when assembling the auto trans.
Once I lifted the bonnet I could see the problem, not only was the air con not working but it had seized up and the drive pulley was self-destructing. Some very helpful locals guided us to the local Buick dealership who could not fix it until Monday so we booked into a local motel and had a rest for what was left of Saturday and Sunday. The Air con was fixed by another garage that specialised in air cons at a lesser cost (US$750) than the Buick dealership which quoted US$1,000 and we were on the road again by lunch time Monday.
With the pocket seriously dented by just over $A4,000 we wondered what else could go wrong. We need not have worried as we did a further 14,000kms and the Buick behaved perfectly. By the time we got back to Vancouver we had covered 19,000 kms and travelled through 30 USA states and four Canadian provinces. The duration of the trip was seven weeks, but our car spent a week in our friends drive way while we were in NY as they showed us around in their car.
We had previously priced a rental car and with all the repairs we broke even with rental costs, particularly as a stone had broken a small piece out of the grill in New Mexico. No doubt we would have paid for the repair with a rental car.
Unfortunately we had to leave the car with our Vancouver friends to sell which they managed to do for Can$1,000. By this time our exchange rate had dropped further meaning that we got the same $A as we paid.
I have often regretted that I did not take the time and trouble to import the Buick into Australia as it would have been a great car to have used for the distant national Buick Rallies.
Photos:
All taken in Vancouver in 2000.  "handing over of the keys".
Below our Square dance friends, George and Betty Langtry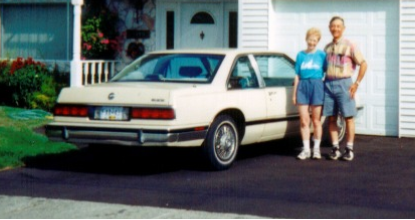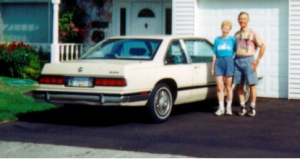 Graeme Barwick