1940 Buick Straight Eight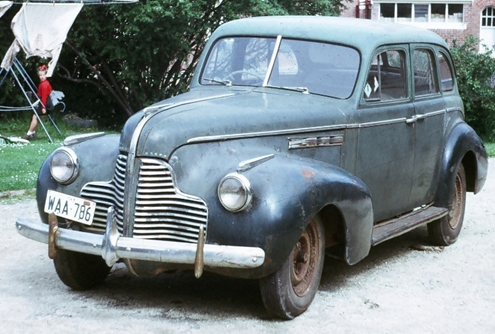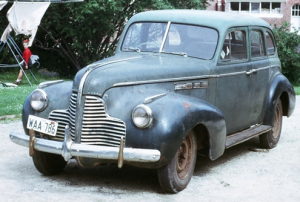 Mechanical/specs
Eight cylinder OHV
Capacity – 248 cubic inches
Bore/stroke-3&3/32×4.125 inches
Taxable HP –  30.63
Brake HP –  107
Wheelbase – 121 inches
Top speed – 90mph  (est)
This car was purchased in 1973 at Sprent (behind Ulverstone) for $200 off Mr and Mrs Hart. It had belonged to Mrs Hart's father (Ray Wiggins from Colebrook) who had given it to his daughter once he got too old to drive it. Once up at Sprent the Hart kids had learnt to drive in it around the paddocks and when the starter broke it was towed from paddock to paddock for the men to use as a shed for lunch if it rained when they were digging potatoes etc.
Nevertheless, the car was in reasonable order and after having the other 1940 Buick I was determined to keep looking for one to restore as a vintage car. The task was not easy as a lot of Buicks and similar cars were used as stock cars. Also once a car got down to "cheapie" status the buyer who was usually poor did not want a Buick, hence a lot did not survive. A more economical Morris Minor etc would have been a better choice.
I drove the car into Ulverstone the night of purchase, just prior to being transferred from Ulverstone to Cygnet and had a local mechanic service the car which included all oil, some new welsh plugs and new radiator hoses as well as fix the starter. The Buick was then driven to Cygnet.
After settling into the new job and residence the restoration started. As the car was only 33 years old there was a limit to what one could spend in both time and money so it was not a body off restoration. Some mechanical work was done, re-chroming, repainting and re-trimming. The Buick did its first state rally in Launceston in March 1975.
Since the initial restoration a lot of work has been done such as the door locks and window winders got working better, new window channel and rubbers. The drive train, a motor transplant, reconditioned head which includes hardened valve seats and stainless steel valves to enable it to take unleaded petrol  all brake cylinders lined with stainless and a reservoir on the fire-wall to save lifting the carpet to check the brake fluid. I have received a lot of assistance from a good mechanic and a good friend, Len Kemp. The drive train was completely overhauled in about 2008 thus removing a clutch judder that had been with the car ever since purchase.
The Buick has since been to rallies in Ballarat, Adelaide, Waikerie as well as Broken Hill and Perth, WA. It lead the Buick Car Club members around Tasmania in 2002. Just prior to Easter 2006 we took the Olds and Buick to Melb. and left the Buick in a friends garage in Kilmore while we took the Olds on the Barossa Valley Rally over Easter. With the Olds rally over we swapped the Olds for the Buick and drove the Buick to the Square Dance Nationals at Gosford, NSW where we used it at least once a day to travel from our cabin to the dance venue for six days.
After a week on Norfolk Island we collected the Buick from friends in Orangeville just out of Sydney and headed to Raymond Terrace in the Hunter Valley for nine days of Buick Nationals. Thanks to  a friend, Jim Russell at Orangeville, helping me fix a couple of small things the Buick performed well at the National Rally. Coming home in the last couple of days the fuel gauge and speedo stopped working.
In 2010 the car was driven to the Buick Nationals at Wangaratta, followed by a tour of Echuca and Bendigo.
Thanks to Len Kemp and all the work done on it the Buick now goes better than it has at any time since I have owned it. It rides well thanks to good shocks, coils all round a lot of weight and a long wheelbase. The big straight eight has enough power to allow it to roll along without much effort. The steering is also nice and light, albeit not very direct.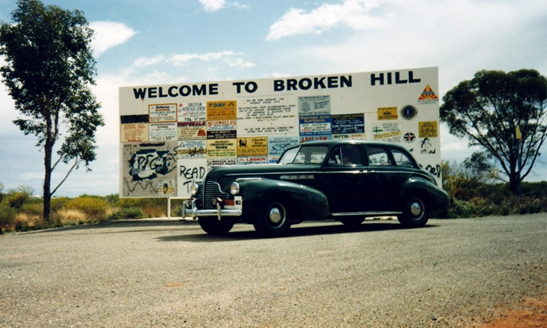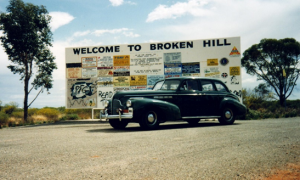 We love our Buick          Graeme Barwick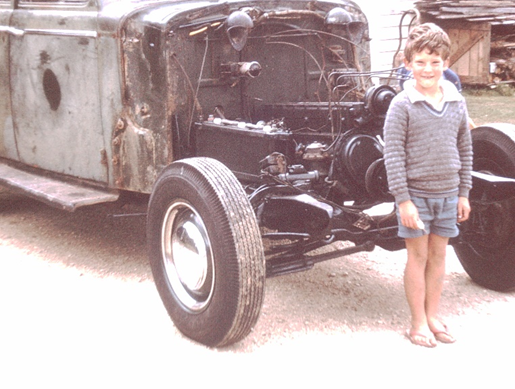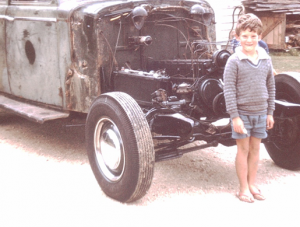 photo:  The little boy above, our son Craig, is now 54 years old