Dear Members and Buick Enthusiasts,       
We hope you look forward to catching up with old Buick friends and making some new ones as much as we all do. Planning is well underway for the next Nationals to be held from 15th to 21st May 2022 in Dubbo and the Post Tour from 22-27th May.
We have secured some excellent accommodation which suits just about every budget. We encourage you to book your accommodation now if you haven't yet done so. (scroll down to view the accomodation options)
HEADS UP RE RALLY DINNER ON SATURDAY NIGHT:
ATTIRE IS: "OP SHOP FORMAL" Not many rules just get your outfit from an Op Shop. Probably a suit for the blokes; dinner suit if you are lucky. For the girls it's open slather; just have fun dressing up. Country towns sometimes have better choice. Prices are very low so no room to haggle. Find your perfect outfit ENJOY THE HUNT!
Event Registration Form is on the wrapper of the Feb 2022 issue of your magazine or available here online Click Here to Download
Peter Cook , Event Co-ordinator
Responsibility
Name
Mobile
Email
Event C0-ordinator
Peter Cook
0416 239468
cookpmtm@bigpond.net.au
Registrations/finance
Geoff Ward
0418 259741
treasurer@buickclub.org.au
50th Birthday events
Barbara Gentilcore
Geraldine & Greg Massey
0407 272277
0418 438481
events@buickclub.org.au
Committee Members
Peter & Margaret Cook
John & Maggie Saddington
Colin & Dawn Castle
Peter & Gwen Allen
Geoff & Pam Ward
Greg & Geraldine Massey
THE PROGRAM
The Nationals in May 2022 will be based in Dubbo NSW and we are looking forward to a Buicking good time.
Here's a flavour of the event:
Registration on Sunday 15th with finger food and drinks in the evening.

Monday will be a small travel day to consider those taking big steps to get to Dubbo on the prior day. We will be based at Dundullimal Homestead, a National Trust site near the Zoo. There will be a poker run and visit to RFDS facility followed by a group dinner with talk by elephant keepers.

Tuesday is a bigger travel day west to Narromine for the air museum then home via Nevertire and Warren. It's a chance to better understand this seldom visited part of our wide brown land. Dinner at own arrangement.

Wednesday is party day in recognition of NSW Club's milestone 50th birthday. The day will be based in Wongarbon at Billyo's Bush Retreat then slap up dinner at Rhino Lodge.

Thursday is less structured so those wishing to can visit the Zoo and other local attractions. (Free day)

Friday sees us back on the road again visiting the Banjo Patterson Museum in Yeoval then Wellington to connect with some locals before returning to base.

Saturday morning is time for show and shine then in the evening we have the Presentation dinner. Dress for the dinner is "Op Shop Formal" so some pre planning is required here. It's a great set up for a light hearted night and there will be some home grown entertainment, fun and misbehaviour.
But wait……there's more.
The "Post Tour" will have three days in both Parkes and Bathurst to explore the offerings of these interesting districts with a varied program including;
a visit to the Art Deco Amusu theatre, continuously operated since it was built in 1936 – boasting the original carbon projectors, original seating including the "Love Seat, original old movie posters of yesteryear and also a look at their Museum attached to the theatre.

Forbes Historical Motor Museum

a unique tractor collection

the Dish at Parkes

a quick lap around Mt. Panorama and a look into its Museum

the township of Sofala (claiming to be the oldest surviving gold mining town in Australia) a

Hill End—wandering the streets of this remarkably well-preserved colonial goldmining town is like stepping back in time – there are even underground mines to crawl through
NATIONALS APPAREL DETAILS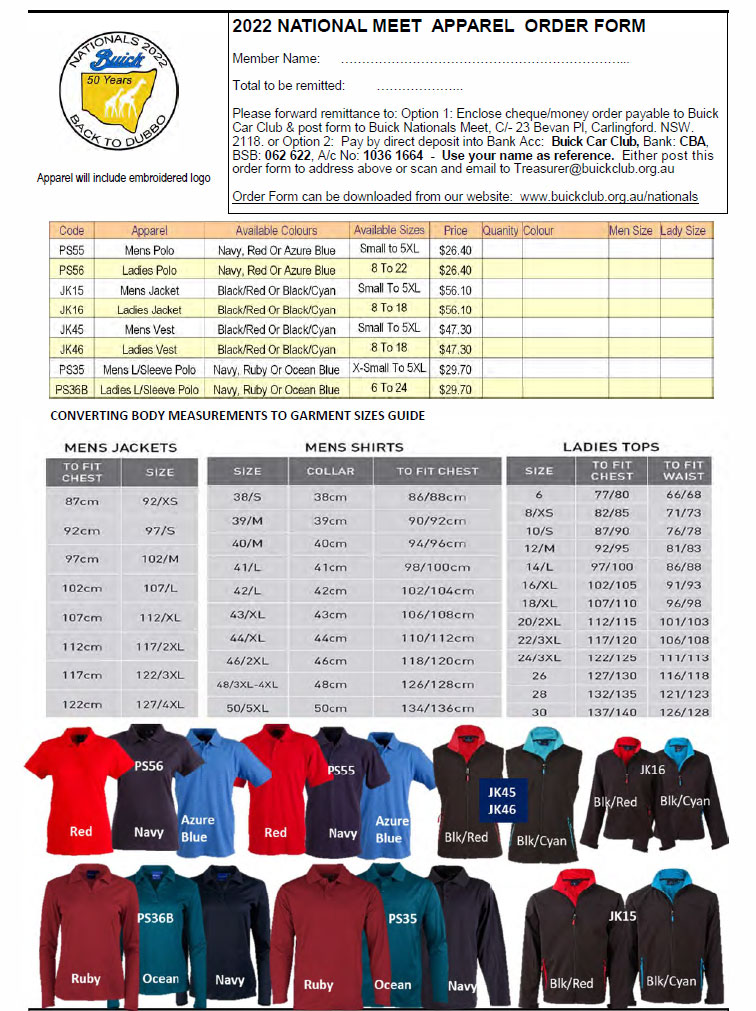 Click Here to Download your PDF order form to complete and send off
ACCOMODATION DETAILS
BUICK NATIONALS now only months away. Accommodation bookings at this stage are very encouraging. Of course, the organised "party animals" already are in but if you haven't yet made the call then now is the time, book your accommodation and reserve your room.
Sun 15 May – Sat 21 May 2022 Celebrating the 50th Golden Anniversary of The Buick Club of Australia in NSW Inc.
Accommodation:
Cattleman's Country Motor Inn, Whylandra Street, Dubbo, NSW, 2830, Ph: 02 6884 5222.
This is a large facility with four room options: Please mention that you are with the Buick Club.
IN: Sun 15th May 2022
OUT: Sun 22nd May 2022
1. $110 per night Queen Room
2. $120 per night King Room
3. $130 per night Family or Twin Room
4. $130 per night 2 bedroom apartments
5. $16 per head per day for Breakfast included.
POST TOUR Sun 22nd May – Fri 27th May 2022
Post Tour will be held after the Nationals and will centre around Parkes and Bathurst. Please ensure you mention the Buick Club when booking your accommodation.
PARKES: North Parkes Motel, 54-56 Peak Hill Road, Parkes, NSW. 2870. Ph: 02 6863 4333. www.northparkesmotel.com.au or email: bookings@northparkesmotel.com.au
IN: Sun 22nd May.
OUT: Wed 25th May, 2022.
Single: $125 Double: $125 Twin Share: $140
(Next door motel – Apollo Motel Parkes, 58-62 Peak Hill Road, Parkes, 2870 – (rooms not reserved) 02 6862 3388 – www.apollomotelparkes.com.au or email: info@apollomotelparkes.com.au )
BATHURST: Bathurst Motor Inn, 87 Durham Street, Bathurst, NSW. 2795. Ph: 02 6331 2222 www.bathurstmotorinn.com.au or email: sales@bathurstmotorinn.com.au
IN: Wed 25th May
OOU: Sat 28th May, 2022.
Small Budget Rooms $100 2 people per night
Budget Rooms $120 2 people per night
Budget Family Room $155 3 people per night
Deluxe Rooms $140 2 people per night
Executive Rooms $155 2 people per night
Spa Rooms $155 2 people per night
Studio with kitchenette $155 2 people per night
2 Bedroom Townhouse $225 2 people per night
An Additional charge of $20 per person will apply for any extra persons.