WELCOME TO THE BUICK CAR CLUB OF AUSTRALIA
Open to all Buick Owners & Enthusiasts
Monthly Meetings: Members meet on the third Thursday – Visitors are always welcome. Our start time is 8pm and our meetings are held at the Veteran Car Club of Australia, 134 Queens Road, Five Dock NSW
Membership is open to all Buick owners and enthusiasts. Click Here Now to complete your Membership Application Request Online. If you would like to download a hard copy of the membership application Click here. To help you decide if PDF option is for you we have a FREE Sample PDF magazine Offer! Click on the button below and complete the form to receive a free PDF sample of a previous issue of Buick News.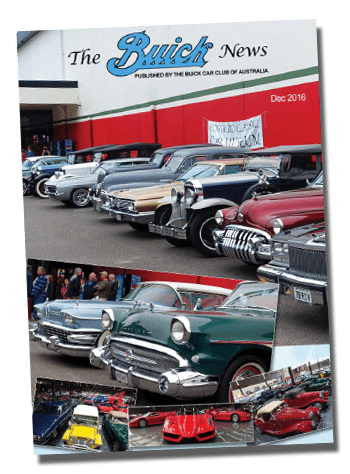 LATEST
News
Article and Photography - Barbara Gentilcore Before setting out on a cloudy day with the sun breaking through, Tony decided the 65 needed a wash. It had rained the previous day leaving spots all over [...]
Buick - Across the Pond and Beyond At home Buick and other GM marques operated virtually independently in the earlier years. Outside North America it was quite different. From the formation of General Motors Export [...]
Article - Peter Allen What a great day this was! We had about 14 families attend and Colin had arranged special parking for our cars as the village gets very busy on the weekends. The [...]
2016
Buick Nationals
Nationals – Illawarra Region – Sun 21 to 27th August 2016
Check out this cool video shot by our friend Alistair on one of the runs. Plus a few shots of the Show N Shine at Black Beach Kiama.